Taylor Knox wins Four Seasons Maldives Surfing Champions Trophy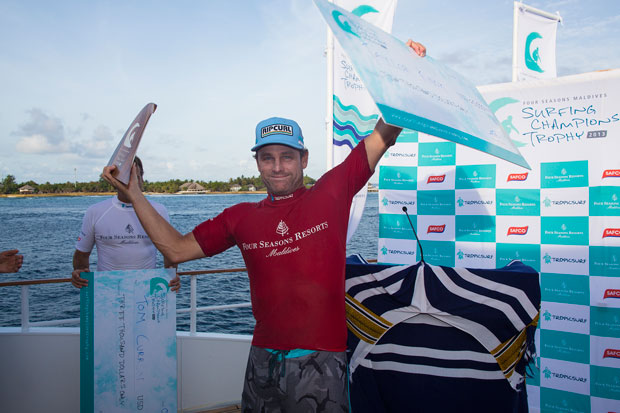 Maldives.net.mv – Iconic Californian surfer Taylor Knox (USA), 42, defeated three time world champion Tom Curren (USA), 49, to win the Grand Final of the 2013 Four Seasons Maldives Surfing Champions Trophy and the USD10000 first-place prize.
After an amazing week of competition from the six world surfing champions, it all came down to final thirty seconds, with Knox locking in a late 9.17 score to claim victory in the pristine 1.5 metre (4-5ft) reef break waves of Sultans Point.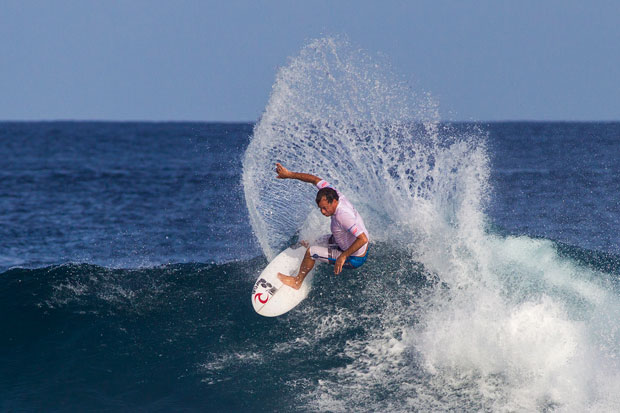 The hotly contested final, saw four excellent rides posted by the two Californians.  Knox opened strongly for an early lead with a 9.27. Curren answered back at the half way mark with a heat high 9.43 to be looking down the barrel at victory.
But patience paid off for Knox, who required a 9-point ride and used his priority wisely to pick off a 9.17 in the final minute to claim the win. Knox finished with a heat total of 18.40 to Curren's 18.33 (out of a possible 20).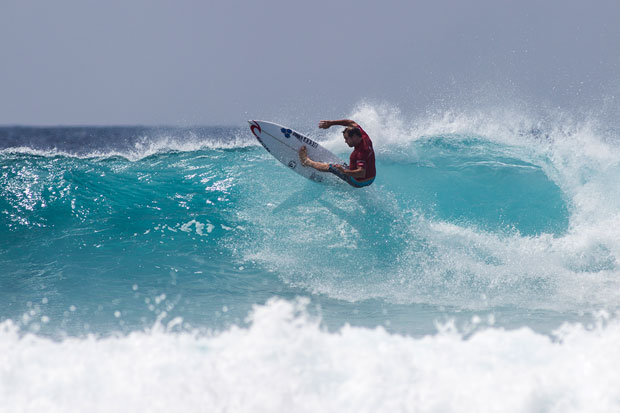 "I got a couple at the start and was thinking I'm in a good position here, but as I'm paddling back out, there's Tom sitting in the barrel," said Knox.
"I had to use my priority because I knew he had taken the lead. I held myself back and waited it out for that set wave right at the end."
Knox, who retired as the oldest and one of the most respected surfers on the ASP world tour last year, at age 41, said he achieved today what he had failed to do at the elite level.
"I could never do it on the world tour, I had to come to the Maldives and learn off these guys and as Kelly Slater said 'I'm one of the best surfers but not a good competitor' but that's changing now," he added.
A super cool Curren remained unfazed under pressure, despite his opponent's seem ably insurmountable early lead the mythical surfer/musician found the events only barrel in the final to bounce back.  However it wasn't enough to halt Knox in his inaugural Maldivian campaign and Curren finished runner-up for the second consecutive year.
"I'm really stoked to have made the final," said Curren. "The waves came today and the weather was nice but I had a bad start to the heat. I was able to come back with a good score and at least the final was a close finish so I can't complain."
"Taylor was in-form today and yesterday as well. He has been surfing strong and with a lot of power. In these condition especially he is really hard to beat," added Curren.
Knox qualified for the Grand Final by winning both Saturday's twin-fin and the thruster division today. Curren secured his finals berth with a win in the single-fin and a runner-up placing in the twin-fin division.
After an unusually stormy week in the Maldives, Sultan's Point turned on for the final day with light offshore winds, sunny skies and steady surf pumping down the reef. The day kicked off with the Thruster Division. With state-of-the-art, contemporary three-fin boards being utilized the action was fast and full-on as the distinguished field of surfers relished being back on their more conventional, up-to-date equipment.
Touted as the toughest field ever assembled for the Four Seasons Maldives Surfing Champions Trophy, competition has been extremely intense. The three-fin division set new levels with Damien Hardman (Aus), Pedro Henrique (BRZ), Layne Beachley (Aus), Tom Carroll (Aus) and Curren all surfing with winning intentions.
But nobody took more advantage of the thruster than Knox, who carved his way to victory in the Thruster Final with extremely committed power surfing to defeat former two-time world champion Hardman (Aus) 19:00 to 14.37 (out of a possible 20).
"We got lucky with the waves, I knew it was going to turn on and it did," said Knox.
Knox locked in the tournament's first-ever perfect 10-point ride and tallied the event's highest heat score.
"It was a win-win for both of us, that set had two really good waves," said Knox.
"I would have taken the first one if Damien hadn't, but the second one was amazing and it held up into the lagoon and I was able to smash it all the way."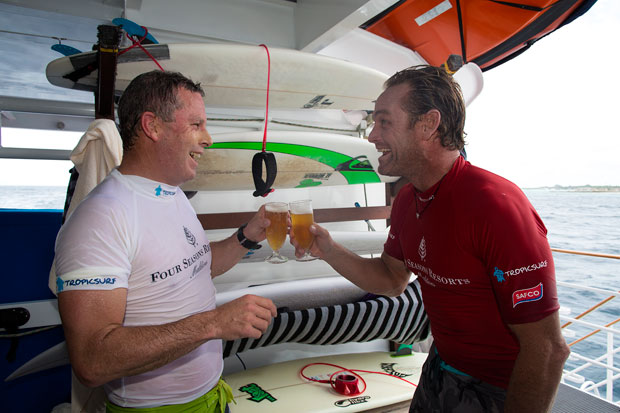 Hardman acknowledged that the Knox's performance raised the bar of the entire contest.
"It was good to make the final, but I ran out of puff in the end up against Taylor," said Hardman. "He was surfing probably the best has been all event and its pretty hard to raise the bar when someone is getting nines and tens but I did my best but got beaten by a better man on the day."
Hardman who is still involved at the elite level of surfing in his role as Contest Director for Rip Curl said that the competitive element is always a factor.
"It's weird, on the surface it's not that serious, but there is an undercurrent that it is serious," said Hardman. "You feel like you are always looking over your shoulder and everyone has their guard up. We aren't hassling each other like we used to do back in the '90s but everyone definitely wants to win."
Hardman and Curren battled it out in a back and forth semifinal until the tenacious Australian goofy-footer locked in a 6.5 ride in the waning seconds of the heat. Curren was left needing a seven-point point ride, but as the ocean went flat he never had the opportunity to answer back.
"It was a tight one, Tom's one of the best competitors in the in the history of the sport," said Hardman. "I'm stoked to be able to hang on and come away with a win."
On the other side of the draw, in the second semifinal Knox racked up a 9.07 wave score to edge out an energetic Henrique to join Hardman in the thruster final berth and secure an all-important Grand Final Champions berth.
Seven-time world champion and lone female competitor, Beachley, narrowly missed out on a semi-final berth, defeated by Hardman on the buzzer in their round one heat.
Two-time world champion Carroll (Aus) also looked set for a semifinal berth until the last 30 seconds of his opening heat when Henrique snatched second place from the celebrated storm surfer.
With the Four Seasons' luxury catamaran, The Explorer, serving as the floating headquarters, surfers and spectators alike enjoyed the action, cold drinks and great food from the deck.
The event format showcases the evolution of the surfboard with the old school '70s single-fin in Round 1, Round 2 celebrates the brilliance of the twin-fin that dominated in the early '80s, and coming up in Round 3 we'll see the state-of-the-art three-fin thrusters put to use. The two surfers with most accrued points at the end of the three rounds qualify for the Grand Champions Final.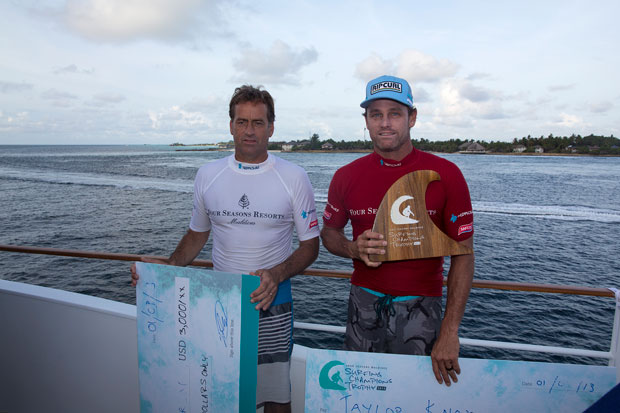 Overall 2013 Four Seasons Maldives Surfing Champions Trophy Final Standings
1st Taylor Knox (USA)
2nd Tom Curren (USA)
3rd Damien Hardman (AUS)
4th Pedro Henrique (BRZ)
5th Tom Carroll (Aus)
6th Layne Beachley (Aus)
Canareef Resort Maldives broadens global reach with new sales representatives in Russia and the UK/Ireland Markets
Canareef Resort Maldives has appointed Sales Representatives for Russia and the Commonwealth of Independent States (CIS), as well as the United Kingdom and Ireland. This expansion is part of the resort's broader vision for global development and increased tourist engagement.
SEA Company Takes the Helm in Russia and CIS
Canareef Resort Maldives has welcomed SEA Company as its Sales Representative for Russia and the CIS countries. SEA Company, headquartered in Moscow, has been a prominent player in the Russian hotel business since 2013, earning accolades such as the "Best PR and Consulting Agency in the Field of Tourism in Russia" at the Global Hospitality Awards in 2019.
Andrey Shemyakin, Managing Partner of SEA Company, expressed confidence in Canareef Resort Maldives, emphasizing the resort's appeal to Russian and CIS tourists. With the Maldives consistently ranking among the top destinations for winter vacations, the partnership aims to cater to the diverse preferences of travelers, especially families with children seeking comprehensive amenities.
Russia remains a leading source of tourists to the Maldives, making the collaboration between Canareef Resort Maldives and SEA Company a strategic move to tap into this lucrative market.
Red Tree Representation Takes Charge in the UK and Ireland
Simultaneously, Canareef Resort Maldives announced its partnership with Red Tree Representation, a move designed to solidify its standing in the UK and Irish markets. Red Tree, boasting over 15 years of experience, specializes in product, marketing, and contracting roles with leading UK tour operators.
The partnership aims to capitalize on Red Tree's extensive industry knowledge and contacts to promote Canareef Resort Maldives and the scenic Addu Atoll. The UK market, being one of the largest sources of tourist arrivals to the Maldives, presents a significant opportunity for the resort to expand its reach and increase tourist inflows.
Mohamed Jaish Ibrahim, Resort Director of Canareef Maldives, highlighted the resort's commitment to making the Maldives an accessible luxury for a broader audience. The collaboration with Red Tree Representation is seen as a crucial step towards achieving this goal.
Nestled in the southernmost atoll of the Maldives, Addu—a UNESCO biosphere reserve—Canareef Resort Maldives spans 42 hectares of secluded island paradise. With 271 villas, offering breathtaking views of the pristine Indian Ocean, Canareef is your ideal destination for a romantic escape, adventurous family vacation, or a memorable group trip. Immerse yourself in the beauty and wonders of Addu Atoll at Canareef Resort Maldives.
Atmosphere Core expands in South Asia with Atmosphere Living ultra-luxury residences
Atmosphere Core, a globally renowned name in hospitality, has announced the launch of Atmosphere Living as part of its continued expansion in South Asia. Headquartered in India, this new company will offer branded ultra-luxury residences with customised end-to-end amenities and indulgences, including coffee lounges, wine cellars, private transport, and bespoke concierge services.
The global branded residences market has experienced a remarkable 150 percent growth over the past decade, and projections indicate a surge in demand. With the real estate veteran Sandeep Ahuja at the helm as Managing Director, Atmosphere Living is strategically positioned to capitaliSe on this demand.
Atmosphere Living will focus on a conscious design philosophy. All properties will be built in harmony with the environment and will incorporate features such as smart recycling, efficient waste and water management, and green energy solutions.
Sharing his insights on the launch, Salil Panigrahi, Managing Director, Atmosphere Core, said, "Atmosphere Living will bring a distinctive offering to India, and is a brand to watch out for. It will combine Ahuja's decades of experience, knowledge, and industry network in real estate with Atmosphere's hospitality expertise, introducing unparalleled serviced residences in India."
Positioned in major metropolitan areas, established second-home destinations, and undiscovered scenic locales nationwide, these projects will also present lucrative investment opportunities. Elite homeowners will have the option to lease their residences back to Atmosphere Living, allowing them to be rented out for income generation.
Sandeep Ahuja, Managing Director, Atmosphere Living, said, "There is currently a gap in the Indian realty landscape for ultra-indulgent serviced homes catering to affluent consumers. We aim to bridge this gap by curating serviced homes that offer indulgences such as entering homes using smart key cards, 24/7 butler services, fine dining, and co-working spaces, among others. Our ultimate desire is to enable our customers to experience a life of true luxury and exclusivity."
Maldives crowned World's Leading Destination for fourth consecutive year
Maldives on Friday won the World's Leading Destination accolade at the World Travel Awards 2023, making it the fourth consecutive top title win for Maldives.
In addition to the World's Leading Leading Destination Award, the Maldives Marketing and Public Relations Corporation (MMPRC) also won the World's Leading Tourist Board award for the second year in a row.
The awards were presented at a gala held in Dubai Friday evening.
The Maldives successfully secured the title of the World's Leading Destination in 2020, 2021 and 2022.
The World's Leading Destination title is the most distinguished in the annual programme, which itself is renowned as the most prestigious and comprehensive award in the global travel industry.